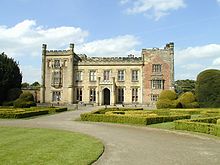 As a team we are always looking for opportunities to expand our portfolio and embrace new projects. So when the opportunity to tender came up last Summer for Elvaston Castle, we jumped at the chance! Our team worked together to input into the tender which is no easy task but after a long process, at the end of the year we were advised we had been successful in winning the tender! This was a great achievement for us and we are proud to be a part of the history of the venue.
Elvaston Castle is simply steeped in history dating right back to the early 16th Century which saw the Gothic Revival. The main hall within the Castle remains as it was created with the Gothic design and features still standing proud. The Castle itself continues to be restored with the team working at the venue constantly applying for grants and funds to restore it to its former glory.
The gardens are a sight to be seen, with gardeners working around the clock to keep up with the acres of work. With an abundance of flora and fauna on the site, it truly is spectacular. Having not done weddings at Elvaston for over 10 years, it is the perfect opportunity for us to create bespoke packages for the site, recommending local marquee companies and other suppliers wherever possible.
Within the space of around 4 weeks, we have worked at full speed to create a website, a marketing brochure, the logo, colour scheme and theme for the venue, along with a banner for site, all of which are ready to launch to market. We have introduced processes and streamlined with our other venues to ensure we are ready to go for our first wedding! We are expecting the official press release to be launched this week from the Council, we will then progress with the full launch. We have started as we mean to continue, with our Social Media posts advertising the venue and showcasing some ideas for the site, along with open mornings planned from this weekend, and a wedding fayre already arranged for 19th March, we are already attracting a lot of interest in the site which is great! The site really is the perfect spot for a wedding, with the Secret Garden being licenced for ceremonies and the English Garden being closed off to the public making it the ideal spot for the marquee.
Please do contact us if you are planning your wedding, there is so much potential at this site and we'd love to show your around and discuss ideas! With our catering packages offering anything from a sit down wedding breakfast, to a traditional range of Paella dishes, BBQ's, buffets and anything in between, we can create your perfect day and ensure it is just as you envisage it!