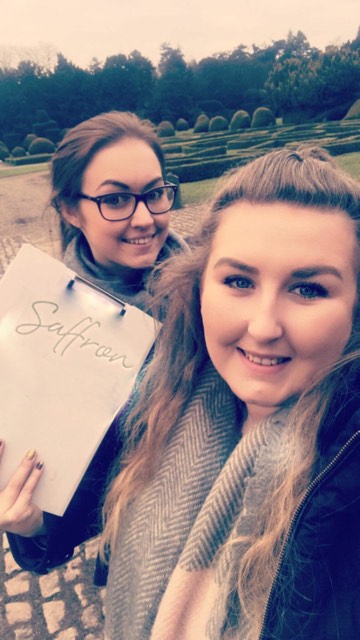 With Christmas now out of the way, our team are back fully focused on wedding catering, and with the business continuing to grow, we've expanded our wedding team!
Towards the end of last summer, we welcomed Kerrie to the team, Kerrie joined us as our Wedding and Events Coordinator, liaising with all of our lovely clients on the details of their big day, menu selection, catering thoughts and ideas for special days. With Kerrie's full focus being on weddings and events, each client is guaranteed that personal service, building up a relationship with each and every client. Now almost 5 months into her role, Kerrie is becoming an expert in weddings, getting married herself at one of our venues this summer! What better experience to share with our brides!
At the start of this year, Kim joined us, Kim had been working for Saffron in a casual capacity on our operations team, but with one of our venues becoming fully managed by Saffron in April this year, Kim has now taken the role of Wedding Venue Manager for The Glade at Rosliston. Kim has been working hard on a re-brand project for The Glade which we will be launching in a few weeks, and with a strategic action plan now in place, The Glade really will be the hottest spot to get married this year! Dont miss out on your date, we have a limited number of dates available for 2018 already, with 2019 also becoming booked up fast!
Both ladies have a background in hospitality and with their bubbly personalities, we know they are the best fit to work with our clients and provide the service they not only expect, but deserve.
With our menus offering samples of what we can offer, with a variety of choices on a 3 course traditional wedding breakfast, we also have a number of more informal options such as a bespoke BBQ buffet, our delicious Paella, or our tasty Picnic options, our team will work with you to bring your ideas to a reality. With unique ideas on venue dressing, colour schemes and little quirks which will really make a difference to your day, our team are well experienced in what will work effectively and are more than happy to chat through ideas with clients.
We also have a fantastic Bars team offering bars at each of our venues, but also mobile bars, with a variety of drinks and the option to create a bespoke cocktail for example to reflect your special day.
Please do contact us to make an appointment with our lovely team, we're here to help and with our services going above and beyond expectations, you will be in the best hands!